Corporate Video Production is currently THE media format that many innovative Singapore businesses use to increase productivity, create better sales opportunities and beat the market competition. If you are a business owner who is unfamiliar with corporate video production, it's time you made the change to take advantage of the valuable benefits that a corporate video has to offer!
It is important first to understand what corporate video production is all about and how it can impact your business. Most companies utilize corporate videos for sales and marketing purposes. They use these videos to gain more clients, by creating the impression of "experts" in their fields. Corporate videos are usually commissioned by a company to advertise their greatest features and benefits, and to show visually how unique they are from other similar companies.
Reputable Production houses in Singapore can help you produce your corporate videos for a very reasonable rate which will certainly be well-worth the cost once you see the increased business. Most business owners use these videos to target a specific market audience, or potential clients by building a sense of trust and in making them the likely experts in their field of business.
Some companies create videos for reasons other than sales, like corporate training videos which can help train their staff members. This can be very cost effective in the long run thus saving the need for a full-time trainer.
Industrial companies for example, create safety videos which instruct employees on operating systems in a safe and secure manner. This can also be very helpful, in thwarting safety violations which can carry expensive fines. Certain government agencies require that your staff have sufficient hours of training on safety instruction each year, so these videos can save you the cost of constantly having to conduct seminars with expensive trainers.
The company sales team can use these videos to explain their products and services to acquire potential clients both here and abroad, saving the need for overseas travelling expenses.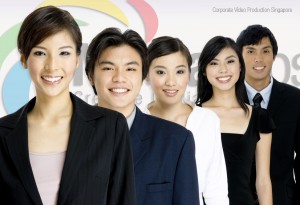 "Contact us to find out about our high quality corporate video services and how we can take your production to the Next Level of Cutting Edge Corporate Communications!"
The savings is phenomenal for your company in more ways than one; it builds on your reputation and highlights your innovation, on the wave for future trends.
If you are interested in getting a corporate video produced in Singapore, talk to a reputable production company that can help you create a professionally tailor made corporate video presentation. The prices are extremely reasonable.
Need professional actors? No problem. We can provide actors, technicians, music scores and professional voice-over in any language from our large and readily available talent stable.